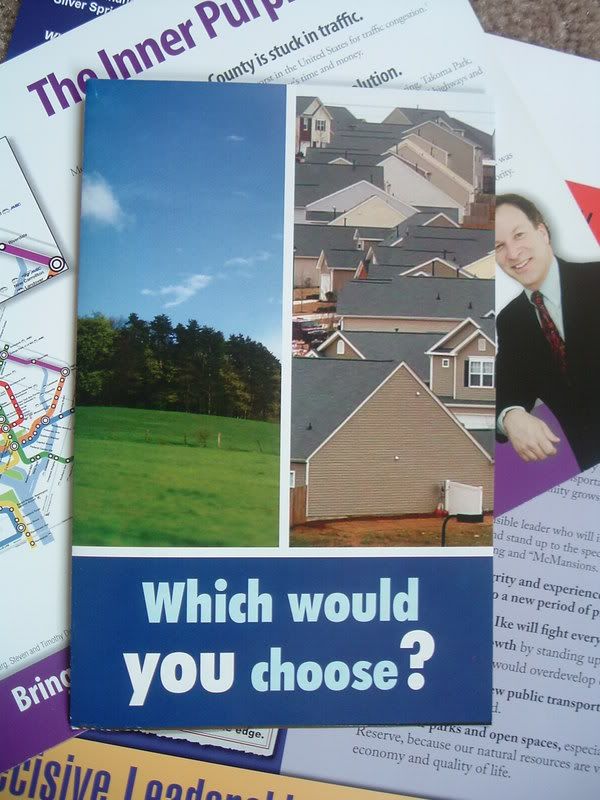 The countywide
election results
are up, and
incomplete
at best, but it's a given that
Ike Leggett
is our new County Executive,
Marc Elrich
and
Duchy Trachtenberg
are our new At-Large Councilmembers, and
Valerie Ervin
is our new District 5 Councilwoman.
The
Clarksburg scandal
not only destroyed the credibility of the
Planning Board
, it awakened a frustration with development and the problems it causes that has been simmering for years.
Neighbors for a Better Montgomery
, unfortunately one of the County's
most influential
interest groups now, tapped into that discontent and has used it to bring in a wave of slow-growth candidates into Montgomery County.
I am not so much disappointed in Silverman's loss - after all, the
writing is on the wall
that he isn't the most honest guy - as I am in the possibility that slow growth becomes
no growth
as we drop building moratoriums all over the County while waiting to build
road
and
transit
projects to which our newly elected officials have a dubious commitment.
I think the question now is whether the "sensible growth" Leggett, Elrich and Trachtenberg have pushed for will be any better than the "sensible growth" the End Gridlock team talked about four years ago. Will our schools and roads still be crowded in 2010? Will the new direction that Montgomery County takes be beneficial in the long run? And, most importantly, can slower growth still provide jobs and housing for a growing population? I'm not even sure if that makes sense, but we are about to find out.