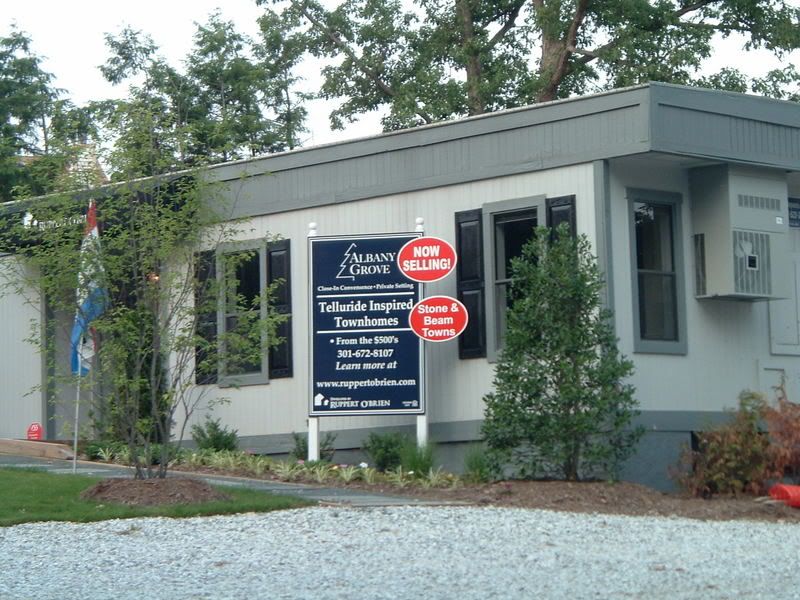 It looks like
Deer Park
, the
"controversial" new development
at the corner of Musgrove Road and Marlow Road in Fairland, won't be getting any swanky model homes or even a sales trailer like this one (
pictured
) at
Albany Grove
.
Yesterday I got a call from a
Richmond American Homes
sales associate letting me know that sales for Deer Park are starting this week, with prices from $689,990 for a
the Waterford
, a 2,700-square foot Colonial. (This is compared to about $735,000 for a
similarly-sized
home in nearby
Cross Creek Club
.)
When asked "how can I learn more about Deer Park," he pointed me to
Taylor Village
, another Richmond American development
fifteen miles away
in Ellicott City where the Deer Park sales office will be located. Now, I'm familiar with builders using satellite offices when there won't be enough business for an on-site office. After all, Deer Park will only have
twelve homes
. Then again, it's only
fifteen miles
out of the way for a family driving around on a Saturday looking for houses to tour.
Do families even do that anymore? Most of my childhood was spent trolling for "Ryan Homes" signs or impatiently sitting in model-house dens with a
Judy Blume book
while waiting for my parents to finish their tour. I kind of missed those days after we settled into our current house. You can only imagine how excited I was in tenth grade when a model house opened at Marlow Farm, a recently-built subdivision at Fairland and Musgrove roads.
The smells, the sights, and the new technology of a model house are unmistakable and irresistible to the suburban, house-obsessed public. It's a shame that I, too, have fallen victim to everything that is new and shiny.