Skeptics of Montgomery County's proposal to put bus lanes on major roads fear it could make traffic worse. But a road closure on Route 29 to repair recent storm damage might offer a glimpse of our possible future.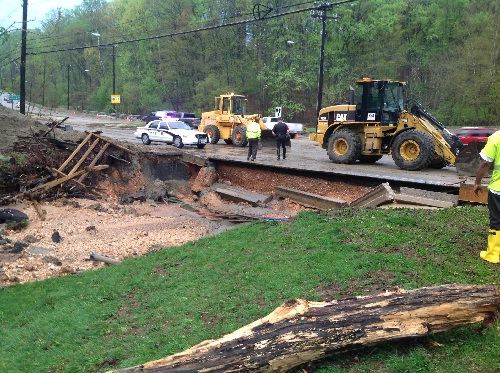 The washed out bridge. Photo from SHA.
Two weeks ago, a torrential rainstorm
flooded Route 29
, also known as Columbia Pike, on a bridge where it crosses Northwest Branch in Silver Spring. This isn't the first time the bridge has flooded, and soon after, Maryland State Highway Administration closed the heavily damaged right lanes
from Southwood Avenue to Lockwood Drive
. Last Monday, it began making repairs, which
will last until the end of May
.
Montgomery County's
Bus Rapid Transit plan
envisions a line on Route 29 between Burtonsville and Silver Spring, which is already one of the region's busiest transit corridors, with 40 buses an hour during rush hour. Along most of the corridor,
buses would have their own lanes
, though we don't know if they would be on the curb or in the median, or if there would be a
a reversible lane
or lanes in both directions.
In any case, creating bus lanes would mean closing a lane to cars, which some residents in nearby Four Corners are
vehemently opposed to
. Thanks to last month's storm, we now get to see what closing a lane on Route 29 to general traffic might be like.
I've driven and taken the bus through the affected area a few times, including in evening rush hour. And there is some congestion, especially where drivers have to merge from three lanes to two. But the real test is what happens after people adjust to the new traffic pattern.
Traffic on Route 29 after a flood in 2010. Photo by the author.
Studies have shown that taking away street space, often predicted to cause traffic mayhem,
can actually reduce congestion
as people find alternate ways to get there. Since the closure began, I've experimented with different routes. I've taken the bus at times of day when I would normally drive because there would be less traffic. Meanwhile, the sidewalks are still open, and I've noticed more people walking or biking to and from Trader Joe's across the bridge.
That may not seem like a big deal, but it only takes a
5% reduction in traffic
to cause a 10 to 30% increase in traffic speed, meaning only a few people have to change their behavior in order for everyone to have a faster trip. It also explains why major highway closures around the country, like
Carmageddon in Los Angeles
, didn't cause the traffic they were anticipated to.
Of course, this isn't a perfect trial. The buses still have to share the remaining two lanes of traffic with everyone else. Unlike other, larger highway closures, there isn't a
campaign directing drivers to other routes
or
beefed-up transit service
. And unlike a road washout, a bus lane will give drivers another travel alternative to choose from instead of simply taking away street space.
But if Route 29 travelers can handle losing a lane for a few weeks, when the bridge is repaired, we might be able to do another trial with an actual bus lane.