After years of delay and construction problems, the Silver Spring Transit Center will finally open next month, bringing together local and intercity buses, MARC commuter rail, and the Red and future Purple lines. To get travelers ready, Metro
put together this diagram
showing how it will work.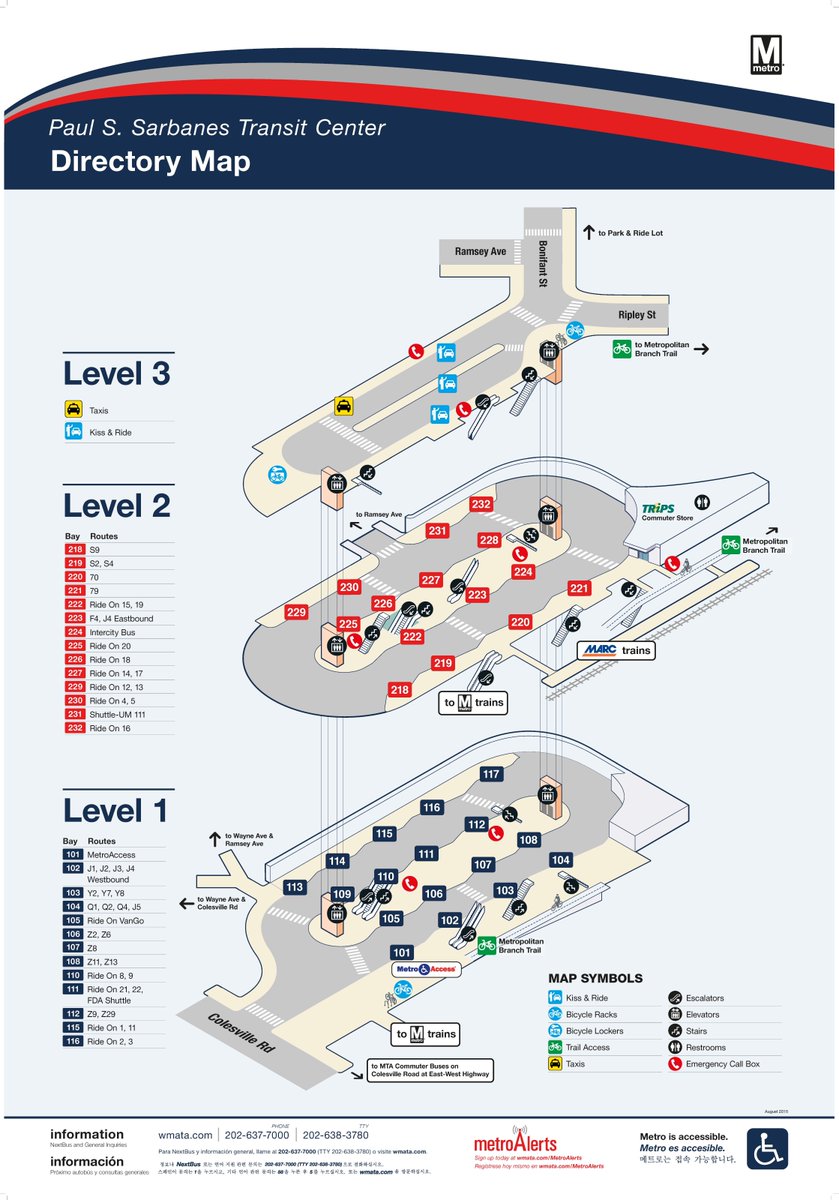 Image from WMATA. Click for full version.
Silver Spring is one of the region's biggest transit hubs, bringing together dozens of bus and train lines and serving 60,000 passengers each day. It'll become an even bigger destination when the Purple Line opens in 2021. First envisioned nearly twenty years ago (and several years behind schedule), the transit center (named for former senator Paul Sarbanes) provides a single place where all of those services meet.
The transit center will have three stories, each with its own entrance from the street. On the ground floor, with an entrance on Colesville Road, you'll be able to find Metrobus routes serving Maryland, some of Montgomery County's Ride On routes, MetroAccess, and a shuttle to the Food and Drug Administration's campus in White Oak. This is where the Red Line entrance will be, as well as some bike racks.
On the second floor, with an entrance on Ramsey Avenue, you'll find Metrobus routes serving the District, additional Ride On routes, and the University of Maryland shuttle, as well as intercity buses like Greyhound and Peter Pan. This floor connects to the MARC train platform and has an escalator down to the Metro entrance.
The third floor, entered from Bonifant Street, will have taxis and a kiss-and-ride. The transit center also has a TRIPS commuter store where you can get transit schedules and buy tickets. All three floors connect to a portion of the Metropolitan Branch Trail, which will eventually connect Silver Spring to Union Station.
Strangely enough, you won't be able to get MTA commuter buses at the transit center. They'll continue to stop a half-block away at Colesville Road and East-West Highway.