Some Montgomery County residents are accusing county officials of waging a "war against suburbia." But the county isn't coming for your single-family house, no matter who tells you otherwise.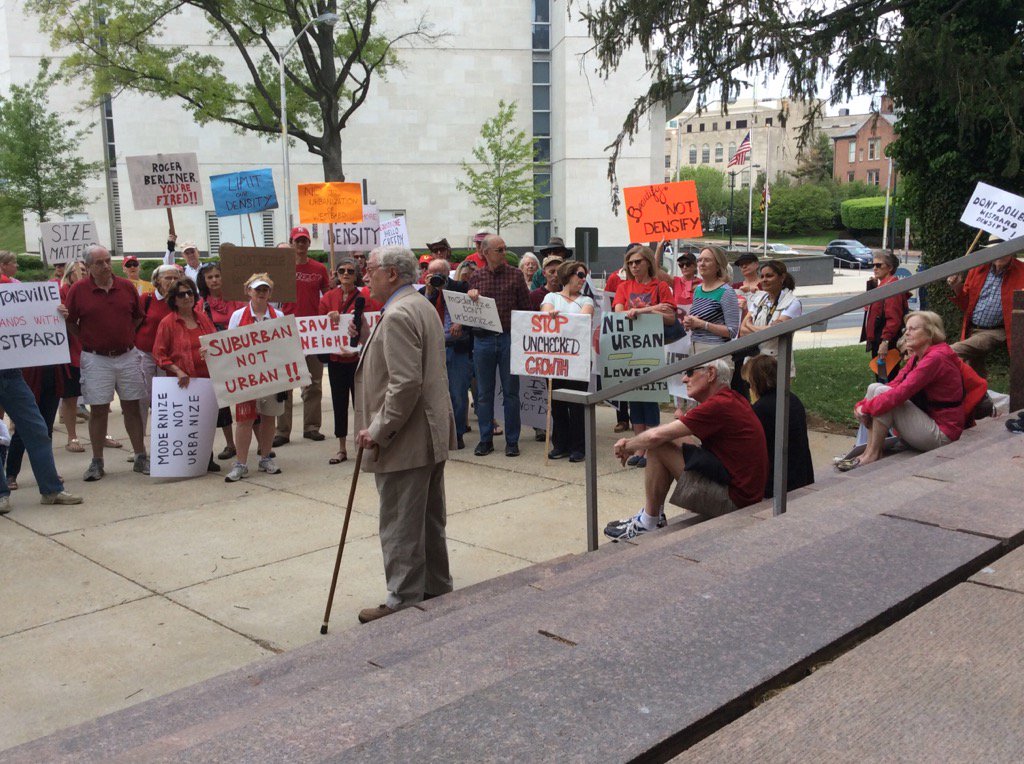 Bethesda residents protest the Westbard plan. Photo by Sonya Burke on Twitter.
Last week, about 70 protesters from Bethesda
demonstrated outside the Council Office Building
over the
Westbard Sector Plan
, which would redevelop a cluster of 1950s-era strip malls off of River Road into a small-scale town center with new shops, parks, and up to 1200 townhomes and apartments. The council is set to
approve the plan tomorrow
.
Holding signs saying "suburban not urban,"
the group shouted down
Councilmember Roger Berliner when he tried to address them, calling him "corrupt." Berliner, who represents Bethesda, had successfully convinced the council to reduce the amount of allowable development in the plan, which effectively limits building heights to
six stories
.
The group, called Save Westbard, is led by Jeanne Allen, former
Republican state delegate candidate
and
charter school advocate
. In an
email blast two weeks ago
, she called the Westbard plan "Orwellian" and says Berliner's "visits to Cuba and China influenced" his support for developing the area.
One of the shopping centers in Westbard today. Photo by Todd Menhinick on Flickr.
She argues that the county wants to "destroy" wealthy suburban neighborhoods like hers, overcrowding the roads and schools, and possibly changing the culture of her community. "Suburbs breed generous people," she says. "They have community meetings and fundraisers in their homes (on streets where people can park)...take care of one another's kids (who can play in yards)...suburbs have a purpose."
Is the county really at war against the suburbs? Save Westbard released a document called the Westbard Papers containing emails between county planners and attorneys for Equity One, one of the major property owners in Westbard, though they don't reveal anything illegal. And Allen refers to
three-year-old comments
from Councilmember George Leventhal (though not about Westbard) in which he calls the suburbs "a mistake."
Except in reality, Leventhal is talking about the spread-out nature of some suburban places, which forces people to drive really far for work or shopping, resulting in lots of traffic and pollution. He's not making a value judgment about suburbs, but instead acknowledging that some kinds of suburban development have negative costs.
"We see the substantial separation of residential areas from commercial areas from industrial areas from retail areas as a mistake," he says. "Because the very thing that was so marvelous when Olney and Gaithersburg and Wheaton were laid out in the 1940s and 1950s is now killing our planet. We can't afford to drive as much as we do, we have to change our land use patterns, our transportation patterns...Our heirs will blame us for our failure to do that. It's one of the culprits in climate change."
It's possible to have suburban neighborhoods where you can have a big house with a yard and still be able to walk to things. You only have to go about two miles east of Westbard to Chevy Chase to see what that looks like. That's why Montgomery County wants to focus development in aging commercial areas like Westbard, or
Chevy Chase Lake
, or
White Oak
. The county is built out, and investing in these areas gives current residents access to more things without having to sit in traffic, while accommodating future population growth.
Rendering of the Westbard redevelopment from Equity One.
There are many current Westbard residents who agree with Leventhal and Berliner that having new shops and amenities within walking distance is a good thing. The Citizens Coordinating Committee on Friendship Heights, which represents nineteen neighborhoods and condo buildings in the area,
supports the Westbard plan
, calling it a "compromise of different interests," including the developers and some residents who wanted less development.
Another
petition circulated by Equity One
includes
signatures from 182 neighbors
who support the plan. "Westbard is a highly affluent area of Montgomery County," reads the petition, "yet its streets are not pedestrian-friendly, its residents shop at an unsightly retail center surrounded by a sea of asphalt, it's service workers can't afford to live there, and its natural resources are among the county's worst."
And there are the people who have yet to live in this community. While looking for a job after graduate school, I worked out of the Westbard Giant giving out samples for a local bakery who sold cakes there. I got to know some of the people who worked there, and discovered that few of them lived in Montgomery County, let alone in the neighborhood. These are the people who have to drive long distances to work in Westbard, which is one of the most expensive parts of an already expensive county. The county's plan for the area would set aside 15% of new housing units for lower-income households, allowing some people who work here to live there as well.
Leigh Gallagher's recent book "The End of the Suburbs" might freak out any Westbard resident who likes the suburban aspects of their community, But Gallagher's argument is that
suburbs aren't actually going anywhere
, particularly affluent ones with good schools that are walkable. It bodes well for Westbard, but it doesn't mean that Westbard, or anywhere else, isn't totally immune to change.