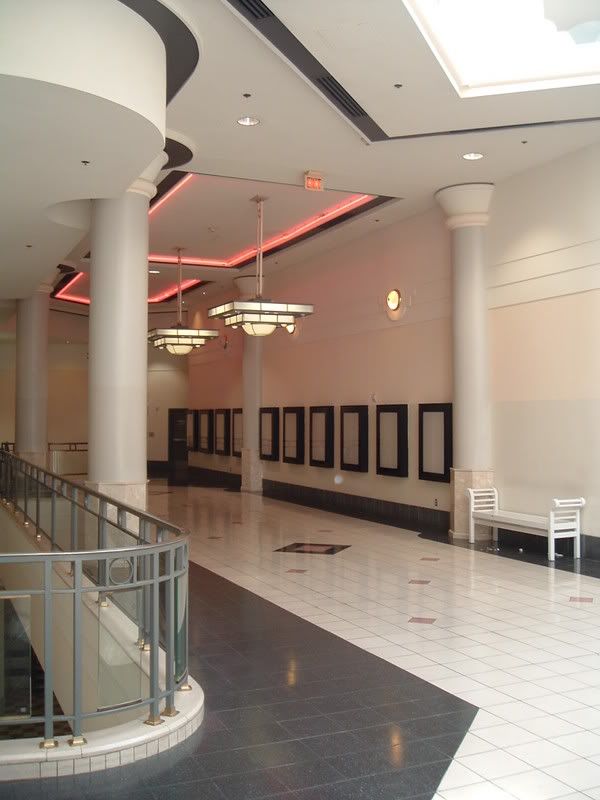 City Place, the Downtown mall that was almost dead from the start, has been the topic in the Silver Spring blogs this week.
The Silver Spring Scene
has word some people want to
tear it down
; meanwhile,
Silver Spring, Singular
wants to keep it, but is
taking suggestions
for a new name. Many a Silver Spring resident (even the number of people who shop there) have walked past and wondered "what do we do with this thing, anyway?"
So just to prove
my own allegiance
to Silver Spring, I'd like to discuss what I'd do with City Place if I were a big, fancy developer:
1) Build the office tower as proposed.
Design-wise, City Place as the bottom of an office tower reminds me of
Copley Place
in Boston (though without the Neiman Marcus). The office tenants would provide a built-in clientele for the mall, and increased rents suggest higher-end stores would come in as well.
2) Turn the shops inside out.
Remove Gold's Gym, which is on the second floor (street level) next to Round House theatre on Colesville, and put in new retail that comes all the way up to the sidewalk. Downstairs, take out part of the discount department store and create small, liner shops fronting onto Fenton.
All of these new shops should be small (less than 2,000 square feet).
Bigger draws should be located inside.


3) Remove the food court. In 1997, my family went to China City and ordered Lo Mein. I was horrified to discover a hair in my noodles. We never went ate in City Place again.

But, seriously, the food court is redundant with all of the eating options on Ellsworth. I would take out the entire food court and put a large-format store in its place. Perhaps the entire first floor (except for liner shops) could become a Best Buy. A smaller grouping of fast-food restaurants could join Ruby Tuesday and Taste of Morocco upstairs, hopefully capturing foot traffic from Colesville.

4) Put the most activity on the top floor. Birchmere, nightclub, Dave & Buster's - replace the old AMC 10 Theatres with something. Ditto for Burlington Coat Factory. Make the fifth floor a destination of its own. (People will have to pass through the mall anyway!) Reconfigure the Fenton Street entrance so that , after hours, the rest of the mall can be inconspicuously closed off while customers can still access the fifth floor.

5) Respect the building's history. What made the original Hecht's work - and what still makes City Place so striking - is the streamlined Art Deco exterior. The façades on Fenton and Colesville scream "This mall was built in 1992!" Let's be respectful of the building's history and take some of the marble down.

Let's take that even further: Hecht's department store as we know it is closed forever, and only a handful of the non-mall locations still exist. If we are to rename City Place as Silver Spring, Singular proposes, the new name should reflect the building's history. Something along the lines of "Hecht's Center" or "Hecht's Garden." I can see people shortening it to just "Hecht's." (It's not like our kids would get it confused.)

I understand this is an expensive idea. Does City Place need this much work to be turned around? Could signing a few leases with the likes of The Gap or Bed, Bath and Beyond be enough?