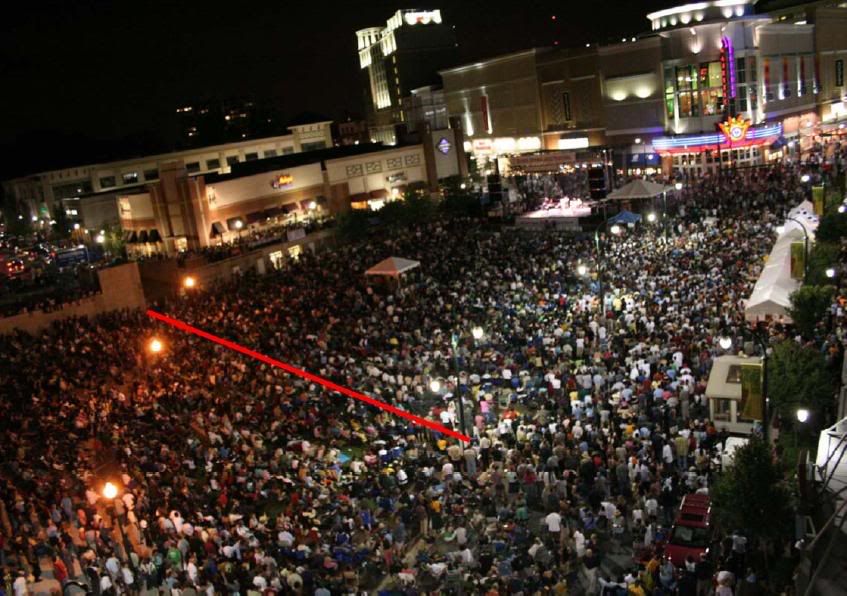 The Silver Spring Jazz Festival in 2006. Previous events, held on "the Turf," have attracted over 20,000 people. Photo courtesy of Montgomery County.
Happy Labor Day! There's nothing like one last day of free time and grilling to remind you that summer is over for reals and it's time to return to that cold, harsh daily grind of school and work.
Wow, that's really depressing! Anyway, here's a look at what's happening in East County this month:
- Next Saturday, Downtown Silver Spring plays host to some of the region's - and the world's - top jazz artists for the fifth annual
Jazz Festival
. This year's event features
the Mingus Big Band
, a tribute to composer Charles Mingus, who passed away in 1979; Israeli-born artist
Yaron Elyashiv
; and hometown favorite
Marcus Johnson
, who
grew up in Silver Spring
and but
now lives in
National Harbor. While previous festivals crammed over 20,000 people onto the bereaved "Turf," this year the event moves to
the parking lot
behind the Lee Building.
(Ironically, the
Washington Business Journal
recommended
using the land as a stand-in for "the Turf"
- it's slated to become the Fillmore music hall as part of a
deal with the County
many are
calling foul
on.)
-IMPACT Silver Spring, which encourages
community-building and advocacy
among East County's immigrant groups, is holding a
Swap-o-Rama
this Saturday at First Baptist Church, located on the corner of
Fenton and Wayne
. "Bring your clean, gently used clothes, and then take and alter as much clothing as you can carry for FREE," says the event's Facebook page; leftover items are given to charity. If you're interested in learning about future clothing swaps, subscribe to the Swap-o-Rama
Yahoo! group
.
so much more AFTER THE JUMP . . .
This week, the Planning Board returns from summer break and takes a look at the Wheaton CBD sector plan.

-Design charrettes for the new Silver Spring Library will be held later this month, with the first meeting taking place Tuesday, September 23. A charrette is a workshop where planners and local stakeholders (like residents and business owners) produce a master plan for how an area or building should be developed. Recent charrettes in East County were held for SilverPlace, Park and Planning's new headquarters in Downtown, and the Burtonsville Village Center.

-Speaking of Park and Planning: the Planning Board reconvenes after summer break this Thursday with a packed agenda. They'll be looking at the Wheaton Central Business District sector plan; voting on whether part of Falkland Chase is eligible for historic preservation (warning! PDF file); and reviewing the Towns of Tanglewood, a proposed townhouse development off of Briggs Chaney Road.