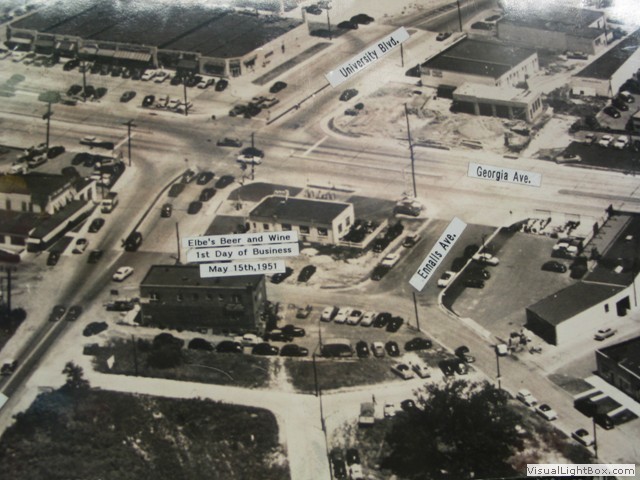 - Reader Cilla pointed us to
these historic photos of Wheaton
, located on the website of
Elbe's Beer and Wine
, which first opened at the corner of
University Boulevard West and Grandview Avenue
in 1951. Those of us who don't qualify as Baby Boomers probably won't recognize photos showing Elbe's 1950's-era, non-alcohol based selection of
celery and brussels sprouts
or a
cute little roadhouse
called the Wheaton Inn, currently the site of
El Pollo Rico
.
- Meanwhile, there's a
growing wish list for Wheaton Plaza
at
What's Up, Wheaton?
(We're lending them our apostrophe and comma because their punctuation marks are still on order.) "The nature of how Wheaton grows is very much tied to what happens in the mall," they write. (Anyone who's afraid of
Wheaton becoming Silver Spring
might want to get out now: they're
already
catching
up to us
in blogging.)
- A fire broke out at the unfinished Silver Spring Transit Center yesterday afternoon around 5:30pm. The
Silver Spring Sprinkles
and
Always Fishing
blogs report that smoke was visible and that a fire truck and ambulance came to the scene, but we've no word yet on if anyone was injured.
- Tomorrow's a busy day at Planning Place: the Board takes up
a proposal
(
PDF!
) to build a
controversial ezStorage self-storage facility
on Route 198 in Burtonsville
(pictured)
, followed by
a zoning change
that would allow a gas station alongside a new Costco at Wheaton Plaza. For more info, check out
their agenda online
.
- Finally: we forgot to mention that yesterday was the birthday of Planning director
Rollin Stanley
, who I long ago professed my
planner-crush
on. Happy birthday!