Could a major upheaval at City Place be in the works?
Silver Spring, Singular
heard that
Urban Outfitters
could be joining
another major retailer
in the beleaguered mall Downtown. Another reason why East Montgomery County can finally
secede
from those snoots west of Rock Creek Park.
But Urban Outfitters, mecca to the tragically hip, is a bellwether of the current "Things That Are As Unique As You Are" trend in marketing. I opened my mailbox earlier this week and this is what I pulled out:
Now, I was skeptical until I turned it over . . .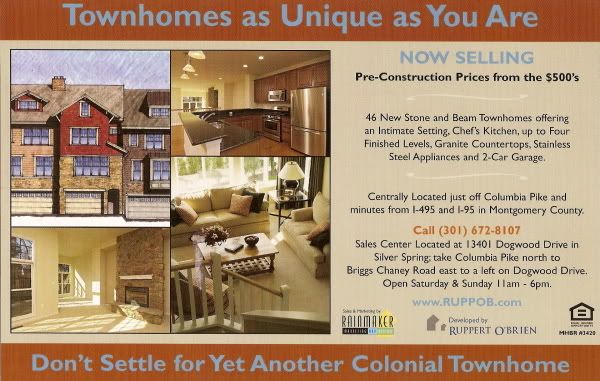 What could be more unique than the
brazenly Craftsman-inspired
townhouses of
Albany Grove
going up on Briggs Chaney Road? It's wild, yet sophisticated! It's innovative, yet vintage! It's a giant middle finger pointed at
Ryan Homes
and everything they represent! Could it be . . . the Urban Outfitters of new townhomes? YES! And it's coming all coming to Silver Spring.
Oh, man, I feel so hip right now. My cul-de-sac never looked cooler.