ALSO IN THE NEWS: A sneak peek at the new Birchmere; Washington Adventist may be moving to Calverton; NPR wants to relocate to Silver Spring [from the Penguin].
ABOVE: National Harbor, a mini-city on the Potomac in Prince George's County, is set to open next year. The Peterson Companies, its developer, also built Downtown Silver Spring.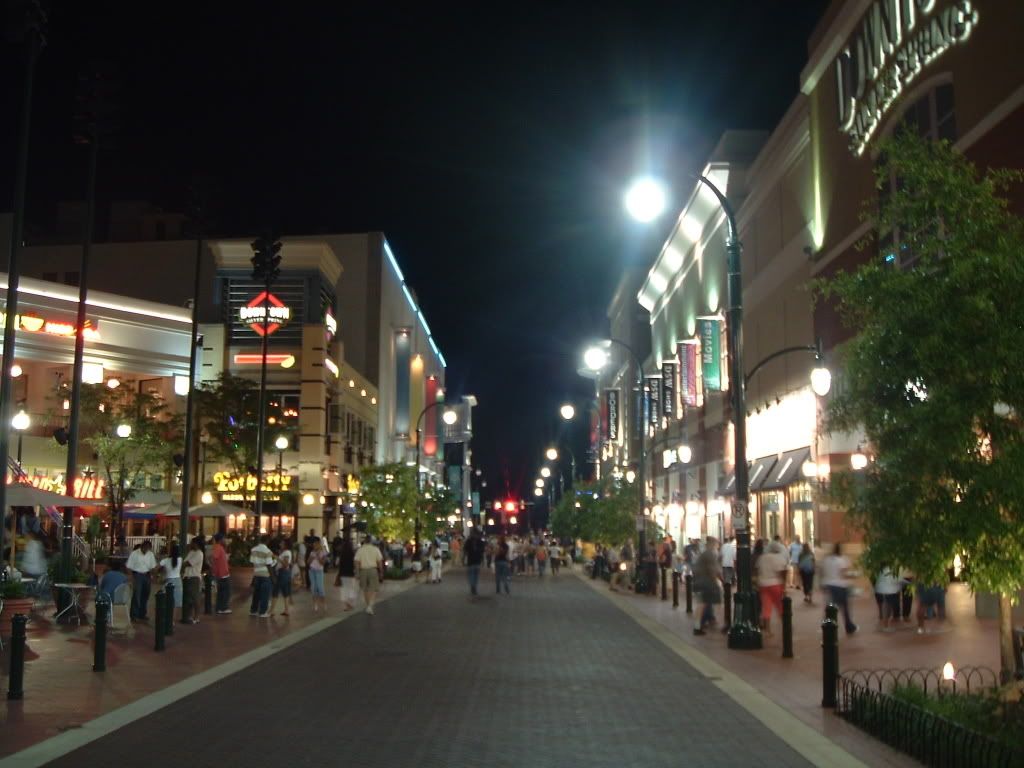 When it opened in 2004, the
Downtown Silver Spring
complex was heralded as the savior of the Downcounty, and two of the region's biggest developers -
Foulger-Pratt
and
The Peterson Companies
- earned bragging rights for sparking an urban renaissance. But now that the fanfare has passed and the "Silver Spr
U
ng" signs have been taken down, F-P and Peterson have both moved on to bigger and better things. How will Silver Spring compare to this new generation of suburban downtowns? And will it remain true that you can't "
build a city in a day
"?
"We're not looking to redo Silver Spring over again," said Bryant Foulger of Foulger-Pratt at a presentation for the
East Campus redevelopment
, covered by
Rethink College Park
, where the first visuals of the College Park project were revealed.
East Campus will have a similar amount of retail as Downtown Silver Spring does now, but this adds a crucial component - on-site housing, including over 2000 apartments in the project. While conceptual drawings of the project (
at right)
look strikingly familiar (mosaic tiled fountain, anyone?) it seems like Foulger-Pratt might want to distance itself from Silver Spring given the harsh criticism people
both in
and
out of
the planning community have given it. (I'm not suggesting that thosse bloggers are to blame, but any developer should be aware of public opinion on his/her work.)
Milton Peterson's hand in redeveloping Downtown Silver Spring, perhaps his most visible and influential project in Maryland (even greater than Washingtonian Center, I'd argue) is given only a cursory mention in this
Post profile
of his plans for
National Harbor
, the mini-city on the Potomac in Oxon Hill that has nearby Alexandria
fearing for its life
.
Silver Spring cannot begin to compare to the size of National Harbor, however; the multi-billion-dollar project will include thousands of homes and millions of square feet of shops and offices, along with one of the largest
convention hotels
in the country. Peterson has Disney Imagineers advising on public artwork, and has even bought "
The Awakening
" sculpture (
at left
) and plans to move it from Hains Point to the site. With all of the glitter and hoopla surrounding this project, does Peterson even need to hold up Silver Spring as a tiny example of what National Harbor coudl be like?
While developments like Downtown Silver Spring have changed the way we look at and build communities in Greater Washington, it's apparent that these early "urban villages" may only become footnotes in a greater history. Perhaps, then, some of
the criticism
launched at Downtown Silver Spring and its "pre-fabricated" appearance may be valid, so long as developers continue to build larger and larger monuments to their imagination.
If it ensures that future developments are of a higher quality, then I say we should dissect Downtown Silver Spring as much as possible, throwing out the things that don't work and building on the things that do work. Any of us who've hung around the corner of Fenton and Ellsworth long enough to see it change know that there's a lot of good we can improve on.