BUT FIRST: Burtonsville residents struggle to keep the Dutch Country Farmers' Market in town, whether or not it's actually possible; and a former local teaches anti-Purple Line activists in East Silver Spring about streetcars and little pedestrians in Toronto.
FINALLY: There's a ten-car pile-up at the intersection of race and money in
Hampshire Greens
, the McMansion-and-golf course community at New Hampshire and Route 28. Three years ago, when the InterCounty Connector was but a glimmer in Bob Ehrlich's eye, residents argued that they were
being unfairly targeted
by the State, who wouldn't have built the highway in predominantly-white (but no more affluent) Potomac.
This Census map (
at right
), in which darker-colored areas represent a larger black population, shows that Hampshire Greens is in fact blacker than its immediate neighbors, but not by a lot. This was only one of many reasons why the neighborhood's fight was quickly shut down by Planning Commissioner (and, in a further twist of race, black Republican) Allison Bryant.
But today, I'm left wondering why the kids of Hampshire Greens, however many of them may be black, are currently being bused to predominantly-black
Key Middle School
, eight miles away - and, as a result, Hampshire Greens parents are
pushing the school board
to send their kids somewhere closer.
A forty-five minute bus ride
down New Hampshire Avenue
in rush-hour traffic is absolutely unacceptable - and, worst of all, Hampshire Greens kids are being isolated from their "neighbors" in surrounding developments. (Never mind that you couldn't walk from Hampshire Greens to Llewellyn Fields, or Ashton Preserve, or one of the other McMansion developments nearby.) Why wasn't Hampshire Greens originally zoned for
Farquhar Middle School
, located just four miles away in Olney? Farquhar's got better test scores, a fourth as many kids on free or reduced lunch as Key - and, most importantly, room for over 170 additional students, according to these MCPS
fact
sheets
.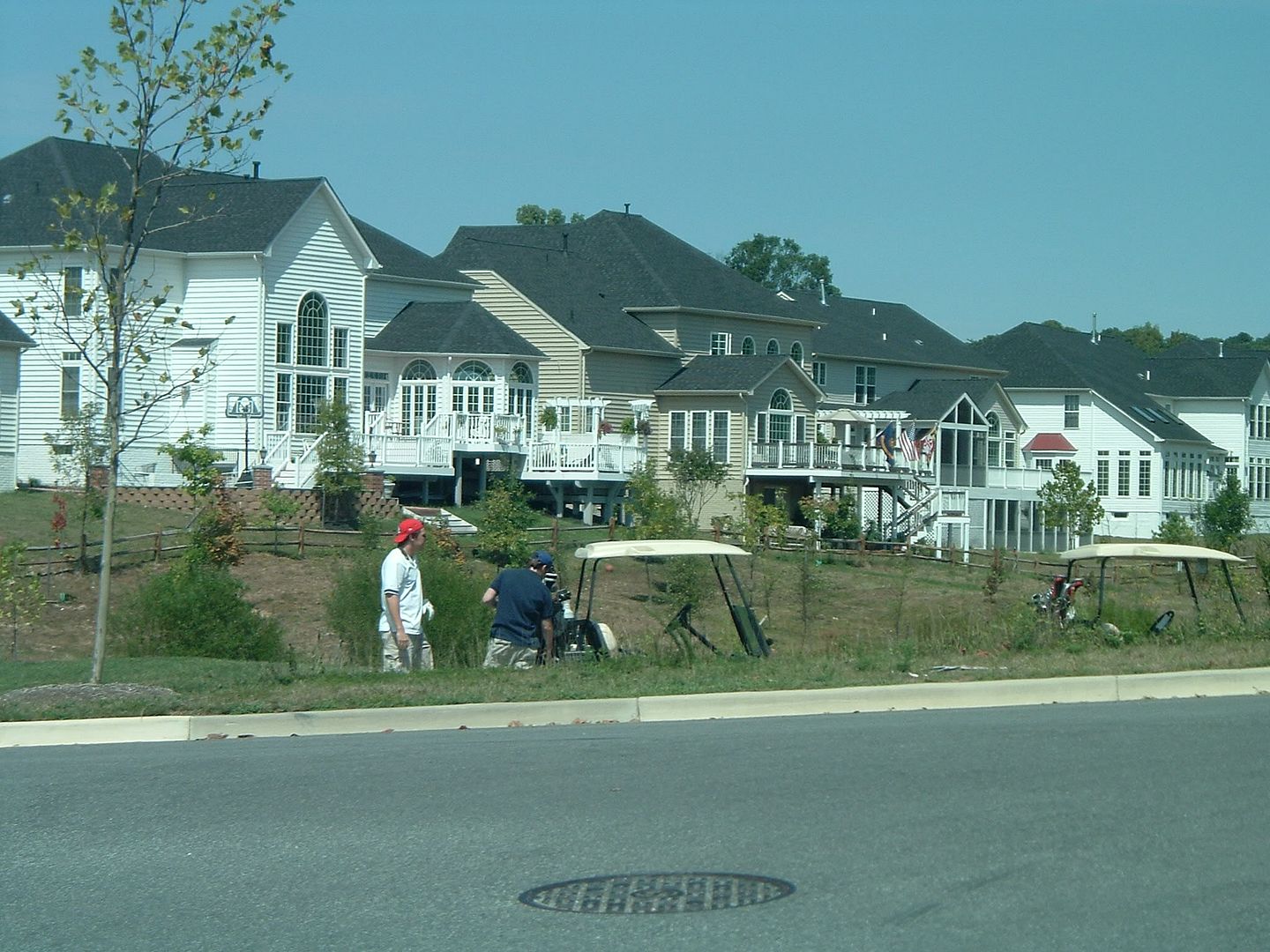 I've said it before: The school system is not responsible for engineering racial diversity, whether by
screwing with the Choice Program
for high schools or by busing students across town. School assignments should be based on proximity - if kids in an apartment building live next door to kids in a golf course community, then they should both attend the same school. I don't think it benefits anyone to throw a handful of well-off kids into a struggling school like Key just for the hell of it.
Teaching kids about diversity at school is important, but whatever they've learned about dealing with different kinds of people is lost when they step off that bus and back into the isolation of a homogeneous neighborhood, whether it's Hampshire Greens or a White Oak apartment tower. This sort of "mandatory busing" only undermines the feeble attempts at community-building we can make in an area where everything is so spread-out and economically segregated.
Meeting photograph from Hampshire Greens website. Golf course depicted is actually Cross Creek Club.