"This is about strengthening neighborhoods, bringing us together in an age when we don't even know who our neighbors are."

- Eileen York, Citizens Involved
Over one hundred people came out to Paint Branch High last Wednesday for the fourth meeting of
Citizens Involved
, East County's newest "civic umbrella group," to discuss the future of Burtonsville with a slate of elected officials, including County Councilwoman
Marilyn Praisner
(D-Calverton) and State Senator Rona Kramer (D-14), and representatives from
Park and Planning
and the
State Highway Administration
.
"I'm impressed by the level of energy," says civic activist Stuart Rochester. "We find crowds like this in Potomac . . . where people have a strong sense of protecting their community."
While the discussion also included trash pick-up and graffiti, the main focus was on "how to pull our town center back together," in the words of Citizens Involved founder Eileen York. Residents and businesspeople alike were concerned about current construction on Route 198 which, like the recently-completed Burtonsville Bypass, have hurt business in the town and made it even more difficult for pedestrians to move around.
"For the past two days, [construction crews] have been milling on 198," one Burtonsville Crossing shop owner says. "It effectively destroyed my business."
after the jump: why east county hates the State Highway Administration
.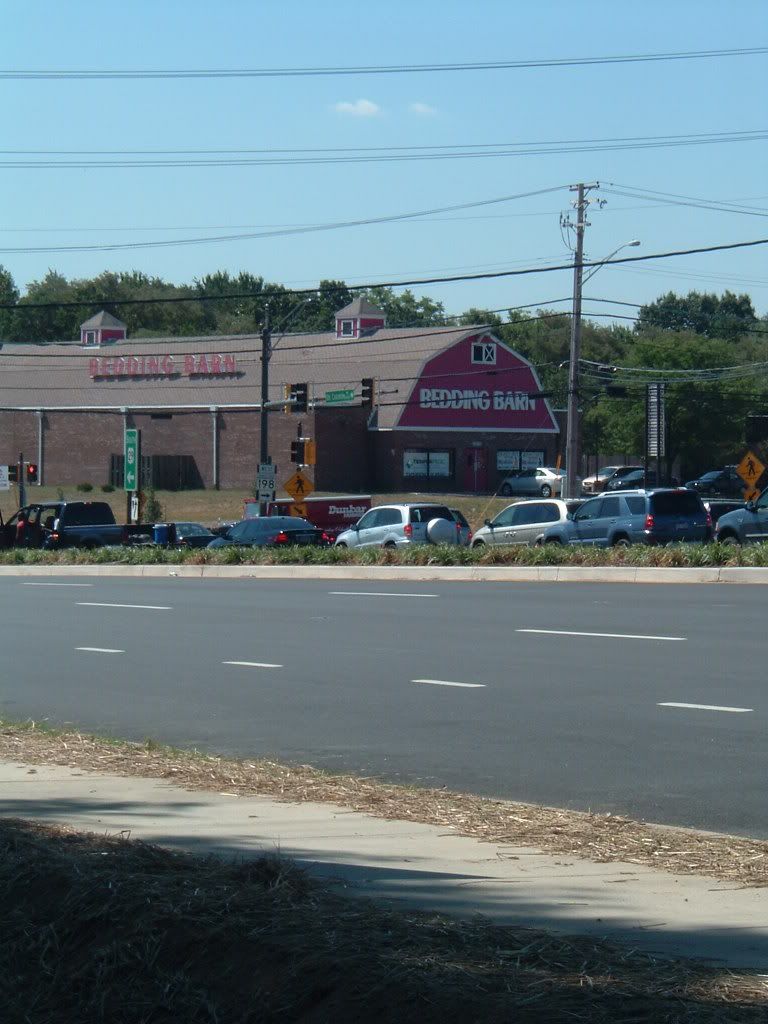 Piera Weiss, writer of the Fairland Master Plan, which has guided growth in East County for the past ten years, suggested making Burtonsville denser and more pedestrian-friendly. "We need to recast [route] 198 as a main street and old 29 as Burtonsville Boulevard," says Weiss. She mentioned the planned Burtonsville Access Road, which would serve businesses on the north side of Route 198.

The State Highway Administration, which manages both routes 198 and 29, offered few solutions for suffering businesses, other than the existing "Burtonsville Town Center" sign on Route 29. Residents were frustrated by what appeared to be the SHA representatives' unwillingness to help and were not polite about saying so.

"Y'all didn't think it out," spits Burtonsville resident Ron Smith, decked out in a cowboy hat. "Y'all did the worst job I've ever seen in traffic engineering, and I come from aerospace engineering."


Smith was more than frustrated by the SHA's "total lack of neural activity," he says. "I'm talking about from Silver Spring to 216 [and] the brain-dead road design . . . what they did on 29 is stupider than Boston." Turning Route 29 into a freeway, he argued, accomodated express traffic at the expense of local traffic, cutting off neighborhoods and making small trips difficult and time-consuming. "They fucked up Blackburn [Road]," he laments. "I feel sorry for those people."

While York founded the group earlier this year to counter East County's reputation for crime and instability, some feel a discussion about development might be the best way to improve the area's image. "I'd rather us focus on one or two things, like creating in Burtonsville an attractive, functional center that works for the residents and businesses of the community," says Rochester, who chairs the Fairland Master Plan Citizens Advisory Committee.

And if that means a denser Burtonsville, Rochester is optimistic about the possibilities. "I'd be willing to contemplate added density to give the business community more work so they can come up with some more visionary concepts," Rochester says.

Check out the 1997 Fairland Master Plan on the Park and Planning Commission's website.